Back to All News
October 6, 2021
Local Bee Population Gets Support from IA Management, LLC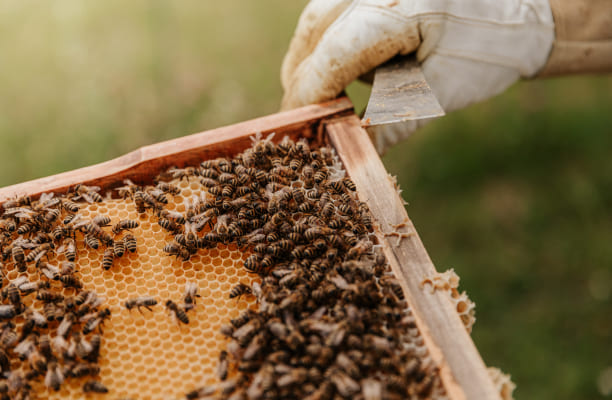 According to USA News, the North American bee population has decreased 93% in Western regions over the last two decades. Fortunately for the valuable pollinators in Madison, they have an unexpected ally working to restore their home.
IA Management, LLC has successfully attracted hundreds of bees to The Park at High Crossing, a collection of commercial properties owned by the management firm's parent company, Investors Associated, LLP. They filled a garden median in the Class A business park with local wildflowers and before they knew it, there was a visible increase in the bumblebee population in the area.
"We couldn't be more thrilled that our landscaping efforts have created a safe space for bees. It is both a beautiful and sustainable environment, one that even our clients have taken notice of and appreciate," said Rachel Govin, JD, MS, Investors Associated Management Chief Operating Officer and General Counsel.
With the U.S. bumblebee population declining due to climate change (nearly half of the regions in North America that used to have bumblebees no longer do, according to The Washington Post), it's more important than ever to foster environments that help bees thrive. They're responsible for more than just helping our gardens grow—without pollinators for our crops, a major food source would be threatened. IA Management has already begun planning for additional landscaping opportunities throughout the corporate park and their other portfolio managed properties with their neighborly bees in mind.
Investors Associated is committed to green initiatives across the firm's portfolio, from installing electric car charging stations and solar panels at properties to retrofitting existing properties to be more energy efficient. The garden at The Park at High Crossing and the bees that inhabit it are just the latest example of how Investors Associated has proven its dedication to building a more sustainable planet, one property and one hive at a time.